Home
Meet the Potter
Gallery
Limited Edition Pottery
Purchasing Pottery
Caring for Pottery
Outer Banks Photos and Links

Some basic things to know about your pottery:
1. Pottery needs to be heated evenly and slowly.
2. Sudden changes in temperature will break pottery.
3. While baking, place dish in a cool oven and warm up with the oven.
4. Do not place pottery directly on a stove burner or over an open flame.
5. Never heat pottery without food or water in a microwave.
6. Pottery can be washed in a dishwasher or by using a plastic scrub pad
.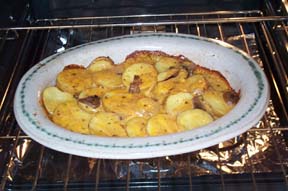 Jennifer's Potato Recipe:
1 can cream of mushroom soup
1/2 teaspoon paprika
1/2 teaspoon pepper
4 medium baking potatoes cut into 1/4 inch slices
1 cup grated cheddar cheese
Combine soup, paprika, and pepper.
In a greased baking dish arrange potatoes in overlapping rows. Sprinkle with cheese. Spoon soup mixture over cheese.
Cover with foil and bake at 400 degrees Fahrenheit 45 minutes. Uncover, bake 10 minutes or until potatoes are fork tender. 6 servings